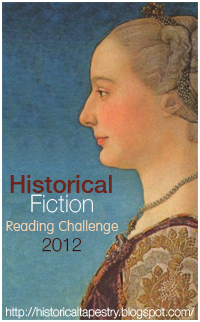 Quando vi esse desafio eu não consegui me segurar. Mesmo com tanto desafio que eu já participo em 2012. Amo ficção histórica e não pude deixar Historical Fiction Challenge 2012 passar. Além do mais, eu posso contar os livros lidos nesse desafio no 100+ Books In A Year Reading Challenge 2012! e em outros desafios.
Durante os 12 meses do ano eu posso escolher um dos diferentes níveis de leitura:
Severe Bookaholism: 20 livros
Undoubtedly Obsessed: 15 livros
Struggling the Addiction: 10 livros
Daring & Curious: 5 livros
Out of My Comfort Zone: 2 livros
O desafio ocorrerá a partir de 01 de janeiro de 2012 até 31 de Dezembro de 2012 e qualquer tipo de ficção histórica é aceito (FH fantasia, FH jovens adultos, etc…). Eu acho que lerei 10 livros de ficção histórica (Struggling the Addiction), mas tudo pode mudar.
Será muito divertido!
Update – Livros lidos: 2 / 10 Books. 20% done!
O Retrato vol. 1 (O Tempo e o Vento #2), de Erico Verissimo
O Retrato vol. 2 (O Tempo e o Vento #2), de Erico Verissimo
O Arquipélago vol. 1 (O Tempo e o Vento #3), de Erico Verissimo